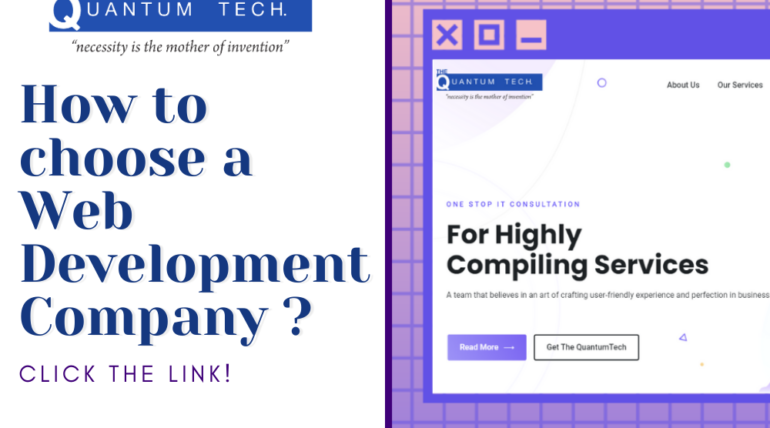 Due to advancement in technology and the way human civilization has accepted it, of course because of the benefits it provides us with. Small or big, all businesses and companies are available online providing their services to customers all the time. Not every one of them has a developing team to take of their website, software, and other tools. Hence, it is inevitable that either they will hire a Web Development Company for their tech requirements.
Before partnering with a Web Development or IT company you might have to look at a few aspects in order to make sure from your side that you are trusting the right entity. Things like checking the company website, their social media accounts, their portfolio etc are obviously very much understandable given the era we are living in. But, what are the other facets that one should make sure of before considering the company worth their while?
Please read along in order to find out!
Cost Structure
Various companies have different pricing structures, some charge on an hourly basis, some are fixed and some depending on the person working on your project. It is very important that you know about the cost structure followed by the company.
It is better to clarify the costing terms and what the costing will be for your current project and for if you visit them again.
Maintenance and Support
It is better to look at the maintenance policy the prospect company follows. Sometimes, they have good offers for maintaining your softwares, websites post deployment and the support, in that they provide you with the services like updating the softwares when need arises, taking care of the bugs if any appears, also they can help you best when you want to extend the features of your website or application or software because they built it previously.
Attention to Detail
The company should be able to have a keen eye over what your requirement is and how you want it to be executed and worked upon. As when you partner with them, they will be designing your company's Digital Personality, through which your clients will know you. Some people only develop a website and then deploy it on the live server. Later on, when you intend to start with the Search Engine Optimisation, you realise the website structure isn't SEO friendly. This is a minor thing, but they must know about it and shall also take care of it or at least suggest you to think about it before starting with the project.
Communicate with Developers
One can ask the company they are planning to hire for their tech needs if they will be able to communicate with the developers who will work on their projects. Sometimes it happens that you are not so technically sound so it might get difficult for the developer to make understand. Still it is a good practice when you get the opportunity to get involved in the project when it is under process.
Customer Reviews
It is normal if you ask for some reviews the prospect company has received from their clients. Social Media plays a great source when it comes to reviews, some customers put up reviews on the platforms like Yelp, Google, Angie's List, BBB(Better Business Bureau) which help you understand the companies reputation with their previous and existing clients. Although, this shall not be a mandatory action for you as it is possible for the companies to put up fake reviews on their websites, that's when these review websites turn out to be most helpful.
Additional Services
Some companies provide additional services on the side like Graphic Design, Digital Marketing, SEO, it is not necessary that you need them now but you might require them in the long run. When you have one project in hand, it is not mandatory that you will not have anything else in the remote future. For instance, if you got a website build you might require SEO services for the same. You can keep a tab of the company whom you got your website built from, whether they provide SEO services too, because if they can do it, you will not have to go on a chase again for the SEO.
Request a Contract Proposal
Last but not the least, once you have finalized a company to move ahead with, or have even shortlisted two or three companies then you shall request them to pull a contract proposal for your project. This is a good practice because firstly, you will have everything they are supposed to do in the commercials decided by both the parties in writing. Second and most importantly, you can give the terms and conditions the company has for executing the project, please go through it very thoroughly so that you can clarify if anything doesn't fit your concern.
Looking for a Development Company for one's project is a very likely action nowadays as every business entity wants to come online and present themselves in the market. If you have any tech queries we are here to help you can drop a line!